This is what happens when you all want to make everything yourself: You design and craft cute cupcake toppers for a huge birthday party and when the day comes you forget to even stick them in the cupcakes :-)
This happened to me on Kris' golden and violet birthday party. I had way too much on my mind and when the party was over I found my little bag with all the cupcake toppers, waiting for their performance.
It was funny though!
Anyway, here is how to make them, it is SO easy.
Once you have a certain design you like, just print it out (make sure the measurements are exact though) and cut it out.
Please read on to see more photos the how to instructions.
Design Time depends: when you have free printables, no design time at all
Prep Time 30min – 1 hour (cutting out)
Difficulty Easy
For the Cupcake Toppers you need:
Cut out designs (craft paper)
lollipop sticks
tape (you can use hot glue as well)
paper punches (I used circle and flower shaped punches)
pair of scissors
Here are the various designs I made for the birthday party.
Since we all love the show How I Met Your Mother, there had to be at least one "Barney" Cupcake Toppers saying how legendary tonight will be :-)
A monogramed cupcake topper with the letter K, stands for Kris of course.

and many many others…

and more…HAPPY BIRTHDAY KRIS :-)

If you like my cupcake toppers, why don't you download them? I am sure someone has a birthday soon
Here is the free printable (zip) for you, just click on the image: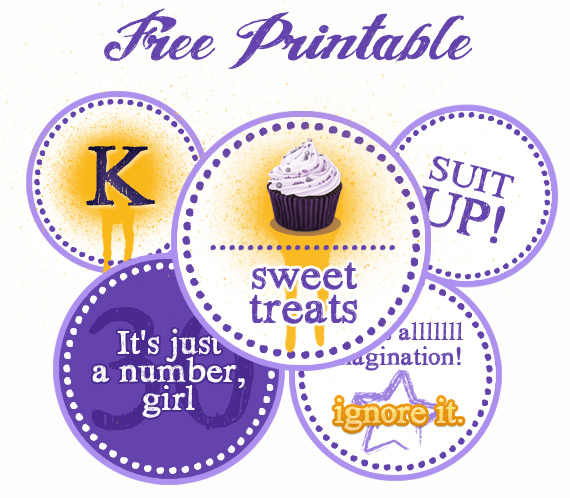 Enjoy :-)
Blessings…niner