Everyone who likes vanilla cupcakes will definitely LOVE these! Whether with or without animal products, they taste so so good and I can honestly recommend you to try these out.
It is really not hard at all to bake without animal products like eggs or milk. I love trying out new things, to see the bigger picture can be so amazing.
Plus, it's kind of boring to only bake with milk and eggs, so I thought to try out something new!
You don't even have to tell your friends and family about the difference of these cupcakes compared to the general ones :)
You will look in happy faces, guaranteed.
I chose to take chia seeds as an egg replacer. I love chia seeds! They are super duper healthy. I put them in my green smoothies each and every day. Plus you can make the yummiest desserts with them such as chocolate chia pudding, heavenly good!
These teeny tiny seeds are so versatile, even the the maya and aztecs knew about it, chia seeds were a very important food crop for them!
Antioxidants, calcium, potassium, iron, omega-3-, omega-6- fatty acids, even the calcium content is 5 times higher than calcium content in milk. Makes you think for sure.
I wanted to tell you about my YouTube Channel – I made a video for this particular recipe so you can see exactly how it's made.
You will find the video at the bottom of this post. I would be so thrilled if you subscribed to my to my YouTube channel because I am planning to make more videos.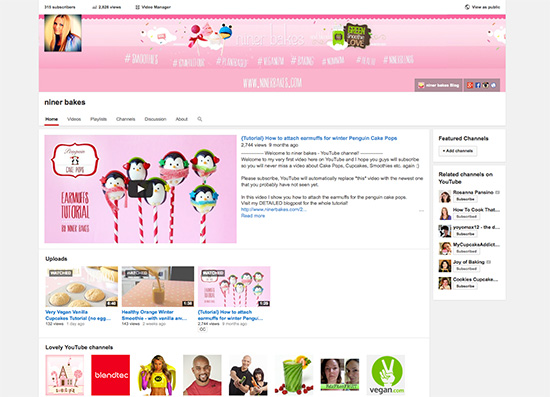 Prep Time 10 minutes
Baking Time 15-20 minutes
Difficulty Easy
For the very vegan Vanilla Cupcakes:
1 1/4 cups all purpose flour
1 1/4 teaspoons of baking powder
1/2 teaspoon baking soda
1/2 teaspoon salt
2x chia seeds "Egg Replacer" (description below)
3/4 cup sugar
1 1/2 teaspoons pure vanilla extract
1/2 cup vegetable oil
1/2 cup plant based mylk, such as almond mylk
1/2 teaspoon apple cider vinegar

For the easy peasy Chia Seed "Egg Replacer":

3 tbsp. filtered water
Chia Seeds, grinded

The rule:
3 TBSP of filtered water + 1 TBSP Chia Seeds Powder = 1 Egg

And in case you need that recipe more visual, here is my YouTube Video for this recipe:

Please subscribe to my channel if you want to see more videos!

Love,
niner